Here we show you books that we think may be particulalry appealing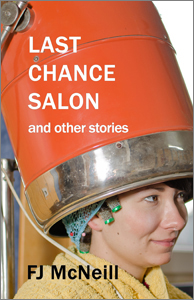 Who was I kidding? I wasn't a successful businessman running an empire from a luxury penthouse. I was a chain-smoking, fifty-something, sometime actor in a cardigan, washed-up in a stagnant corner of south London."
When Rafe Bunce takes over a run-down hair salon in Penge, he hopes to make a success of his life at last. Not content with improving his own fortunes, he is soon meddling in his customers' lives, too – with bittersweet results.
The stories in Last Chance Salon touch on the hopes and dreams, big and small, which we all carry inside us.
'The dialogue crackles, there are touching moments (I enjoyed 'Faking It' with the games married folk play to keep egos inflated) - this is a collection worth checking out.'
'Seldom have I read a book from cover to cover with a smile on my face, laughing out loud in parts, with no second guessing how the story will end.'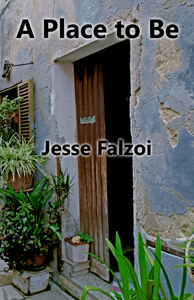 Jesse Falzoi writes with the authority of somebody who understands that sorrow and happiness can't exist without each other. Her characters are as smart as she is, and like all good writers, the risks she takes on the page mean big rewards for her readers. Count me as a fan. - Alexi Zentner, author of Copperhead, Touch, and The Lobster Kings
This is a gifted debut. Stories which are so light and confident in their presence we can only marvel at how deep they delve into the hearts of their characters. - Mike McCormack, author of Solar Bones
I find reading a short-story collection is far more exciting than opening a box of assorted chocolates. After all, there is a guide on the lid so you can leave the ones you're not keen on for your boyfriend and eat all the cherry and strawberry soft-centres for yourself; it's not what I call an assortment. They are fixed and predictable. In this anthology, all you know is that you will enter worlds which seem understandable at first but will confound your expectations In 'When the Curtain Closes', the setting is a typical first-world city of supermarkets, schools and fully-equipped apartments where, in one, a mother whose husband is away on business tries to keep her two children calm, clean and fed during a catastrophic power failure. However, the more you read, you realise their lives, while seemingly normal with homework and teeth-brushing eating sandwiches and pasta is unreal.
Ich habe diese tolle Kurzgeschichtensammlung regelrecht verschlungen und kann sie absolut empfehlen. Es sind sehr tiefgehende, nachdenklich stimmende Geschichten, die mich zum Teil auch noch längere Zeit nach dem Lesen ganz schön beschäftigt haben.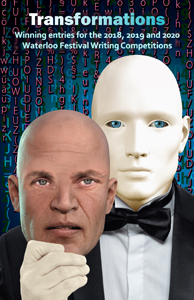 A collection of stories that were written as entries to the waterloo Festival Writing Competitions 2018, 2019 and 2020.
Being and Becoming, Transforming Being and Transforming Communities. Set in places all over the world and in many different times.
How is the world being transformed?
Transformations, the compendium of all of the Waterloo Festival Writing Competition Short Story collections.
Stories written by talented, engaged and risk-taking authors.
If you like short pieces of fiction packed with drama, emotion and thought-provoking questions then this book is for you.
Grab your copy here.